Like you, I can't believe Summer is almost over! :-( I could use a few more weeks, but it was good while it lasted -- I will say that :-)
This was a pretty laid-back Summer for me. I didn't attend very many events, due to crazy-stupid work hours and I've never been big on traveling out of state (hopefully, that will change). Despite both facts, I didn't let much grass grow under my feet.
One highlight: MUSIC!
Anyone who knows me knows that I enjoy and appreciate good music. I prefer "old school" (hip-hop, soul, r&b, rock), neo-soul and non-mainstream (aka "underground") and don't listen to much Top 40 local radio. I'm 31. (That's all I got.)
My family, a few friends and I frequented Fort Dupont Park's FREE
Summer in the City
Concert Series. (Next year, I promise to do a better job of keeping you all abreast of their goings on.
*pinky swear*
) This event was new-to-me, so I was extra excited. The fact that it was FREE was an added bonus. This was an opportunity to enjoy a little bit of ALL my fav genres (
Kindred the Family Soul
,
Midnight Starr
and
S.O.S Band
) all at once and get familiar with some opening acts that I wasn't familiar with:
'Til the Cops Come Knockin
(think Barber Shop Quartet with cops instead of barbers)
, Kinda Blu
and
Be'la Dona
). Gotta love that!
During our first outing, we only brought lawn chairs, blankets and bottled water. Once we got there, we were informed (thanks to the couple next to us and their Tupperware containers filled with hot food!) that you could bring your own food (just no glass bottles).
That did it!
Another highlight: FOOD!
From then on, we went about planning our little
Picnic Pot Luck
. Deciding what to bring turned into a weekly assignment of sorts. Each week, our individual picnic baskets were full of new ideas and recipes that we've been meaning to try or had just read about.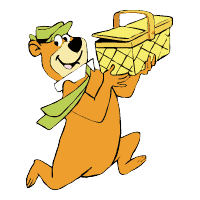 Source: The Gadgets Page
Here are SOME of what made our picnic baskets so great:
Adells chicken-teriyaki pineapple meatballs: (a Costco favorite) just reheat and serve

chicken salad:

served with your choice of crackers, lime nacho chips or veggie bread (courtesy of the Amish Market)

fresh fruit:

strawberries, watermelon (yellow and red), grapes (green and red), cherries, apples

sandwiches:

deli-cut meats, condiments and Hawaiian rolls

Sushi:

California Rolls, I believe (I didn't partake, but thought it was a good idea for those that did)

S'mores:

a campfire favorite of ours. They were really good...and gooey)

Jell-O Shooters

: Hel-lo!
"Stephie's Punch": an ecclectic mix of something-something, fruit juices and lemon slices.
I am REALLY slacking on my picture-taking these days, but I snapped a
few
(like four) shots of what was in my picnic basket.
Great food, plenty of laughs and lots of dancing, coupled with being in the great outdoors made for some pretty memorable Saturday evenings. We're ready for next year.
Music. Food. Family. Friends.
Stay tuned for more Perfect Picnic Party posts! (I think we're onto something...)
Sidenote:
'Yogi Bear'
in 3-D (Dan Aykroyd, Justin Timberlake) coming to theaters Christmas 2010!