Yes! I'm super excited about this :-)
SavvyAuntie.com is a site for all things "auntie" (and "Godmommy")
We FINALLY get our day!
Check it out...and let us know how you plan to spend Auntie Day!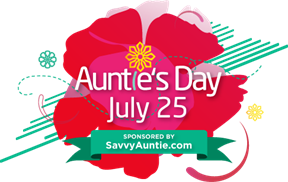 FOR IMMEDIATE RELEASE
For More Information Contact:
Melanie Notkin - Founder and CEO
Press@SavvyAuntie.com
(917) 449 - 2917
Second Annual "Auntie's Day" is Sunday July 25th
National Holiday Honoring Aunts and Godmothers, Sponsored by SavvyAuntie.com
NEW YORK—
Melanie Notkin, lifestyle expert and founder of
SavvyAuntie.com
, announces the date for the second annual national holiday honoring and celebrating aunties and godmothers.
Auntie's Day
will be celebrated this year on Sunday, July 25th, 2010.
Auntie's Day
, sponsored by SavvyAuntie.com, is a time to thank, honor and celebrate the aunt in a child's life, whether she is an Auntie by Relation (ABR), Auntie by Choice (ABC), or godmother, for all the love, emotional support and fabulous gifts she offers. An estimated 50% of American women do not have children of their own, but still devote discretionary time and income to their nieces, nephews, godchildren and other kids. Notkin has dubbed this powerful and influential segment of American women
PANK
s, Professional Aunts No Kids.
On SavvyAuntie.com's
Auntie's Day
– a Mother's Day for aunts - aunts and godmothers will be celebrated with special activities and gifts. The official Savvy Auntie's Day web destination (
www.AuntiesDay.com
) will feature ideas on how parents can celebrate their child's auntie and how aunts can pamper and treat themselves. In honor of the day, Savvy Auntie will also host promotions for aunties on Twitter at
http://Twitter.com/SavvyAuntie
, and on Facebook:
http://Facebook.com/SavvyAuntie
.
"It's time that childless women in the American Family Village are honored for their selfless giving to the children in their lives," said Notkin. "An aunt is there to provide quality time and experiences as a loving caregiver and "confide-aunt" to her nieces and nephews from the day they are born and as they grow up. Many childless women also give tirelessly to children all over the world."
# # #
About SavvyAuntie.com
Savvy Auntie is the Webby Award–nominated premier destination for aunts – Aunts by Relation (ABR) and Aunts by Choice (ABC). With advice and expertise developed just for aunts, along with activities and gift ideas for their nieces and nephews, aunts can get what they need to live the Savvy Auntie lifestyle. Moreover, the Savvy Auntie Community enables aunts to connect and share the best and most challenging parts of aunt-hood with their Savvy Auntie friends. Dubbed "the first parenting site for non-parents," SavvyAuntie.com empowers and engages aunts with whatever they need celebrate aunt-hood. Savvy Auntie can be found at
www.SavvyAuntie.com
,
Twitter.com/SavvyAuntie
and
Facebook.com/SavvyAuntie
.
About Melanie Notkin
Melanie Notkin
is America's premier Savvy Auntie, empowering the nearly 50% of American women who are not moms to celebrate all they do for the children in their lives, while living their own lives to the fullest. As child lifestyle expert and tastemaker, Auntie Melanie has been featured numerous times on NBC, CBS, ABC, FOX and CW and is author of the upcoming book:
The Savvy Auntie Guide to Life: The Ultimate Source for Cool Aunts, Great Aunts, Godmothers and All Women Who Love Kids
(William Morrow / HarperCollins).
http://MelanieNotkin.com
.
*Smooches&Hugs*